In line with our guiding principle "Prayer, Information, Action", our communications work gives a voice to those who often no longer have one. We present the pressing issues of the Church locally and advocate for the rights of persecuted Christians before other bodies, produce the Religious Freedom Report and also PR reports for print media, audiovisual products and social media.
This material is made available to National Offices for distribution to local media, including radio and television stations. With information campaigns, publications, events and conferences, the 23 National Offices advocate the welfare of the Church around the world.
 We give persecuted Christians a voice.

Mark von Riedemann, Director of Public Affairs and Religious Freedom
As an advocate for Christians, we raise our voice for the disadvantaged and persecuted among them in many urgent cases. We have already been able to raise the attention of some very important leaders with our plea for more humanity and charity. A large part of our advocacy work is made possible by maintaining contacts during visits by project partner delegations, as well as by providing high-quality information. As a result, we have earned a great degree of trust and also a good reputation among EU politicians and other policymakers over the past few years, which helps us to initiate projects more easily and to win fellow campaigners.
With donations of 133 million euros, ACN is able to support many projects of the suffering Church around the world. However, money alone cannot solve many problems. It is therefore also important to inform and motivate governmental and transnational bodies so that they can influence local governments. In this way, ACN serves as an advocate for brotherly love and for Christians in need, or as our foundation likes to say: "We give persecuted Christians a voice."
ACN does not accept government funding, but can bring together governments that want to advocate for religious freedom and suffering Christians with reliable partners on the ground. In this way, we often succeed in sensitising political decision-makers to the increasing persecution of Christians around the globe and in explaining the background behind the issues. Our activities as an advocate for Christians were – as in the previous year – partially hampered by the COVID-19 pandemic in 2021. As a result, we were forced to focus specifically on a few countries and topics through selected political decision-makers in Brussels and EU capitals, as well as in the USA. Despite the restrictions, important events did take place. Some of these were conducted digitally.
The publication of the Religious Freedom Report 2021 in April gave us the opportunity to make online presentations to several government agencies, universities, think tanks, specialist groups and other audiences. This has helped in maintaining awareness of the relevance of these issues in the media and through various "influencers" to governments. Consequently, the persecution of Christians and violations of religious freedom in Pakistan, Nigeria and Mozambique, the situation in Lebanon and the continuation of reconstruction in Iraq became more prominent in parliamentary resolutions and government communications. This resulted in significant government donations from Hungary and Portugal to local Church institutions in need.
ACN also participated in EU and UN webinars on human rights violations. These particularly dealt with abductions and sexual violence against Christian women and girls, as well as against members of other religious minorities in Pakistan.
In all our activities, we always concern ourselves with achieving synergy and reaching multipliers in order to inform opinion leaders about the plight of Christians and to mobilise them for dialogue and action.
January–February In the run-up to the Pope's visit to Iraq, ACN's information material reminded policymakers of the many continuing needs of Iraqi Christians and encouraged member states to continue to participate in rebuilding the infrastructure. Close cooperation with French Dominican Father Olivier Poquillon enabled ACN to take up contact with the French government. This culminated in a visit by President Macron to Iraq and the handover of 1.5 million euros for the reconstruction of the Church infrastructure in Mosul.
April The month was marked by the publication of the Religious Freedom Report 2021 and the subsequent presentation of the publication and findings at various events and platforms initiated by the ACN national offices. The publications generated unprecedented media coverage and reached a potential readership of over 1.2 billion people. Over 50 presentations were made via webinars and in-person conferences to media, policy, legal and advocacy groups worldwide.
July In Washington DC, an international gathering of policymakers, stakeholders and victims of religious persecution took place at the International Religious Freedom Summit in July with some 800 participants. This was convened by the former U.S. Ambassador for Religious Freedom, Sam Brownback. ACN was represented by Father Joseph Fidelis from Maiduguri, Nigeria, whose testimony was heard in two panels. ACN also organised bilateral meetings for him with international and US religious freedom groups and other stakeholders.
August During the annual conference of the International Catholic Legislators Network (Frascati, Italy), a gathering of over 200 international politicians and experts, ACN took the lead in briefing the working group on persecuted Christians in Nigeria. Mark von Riedemann and Marcela Szymanski were also able to present the Religious Freedom Report 2021 to Pope Francis at a special meeting for the ICLN at the Vatican.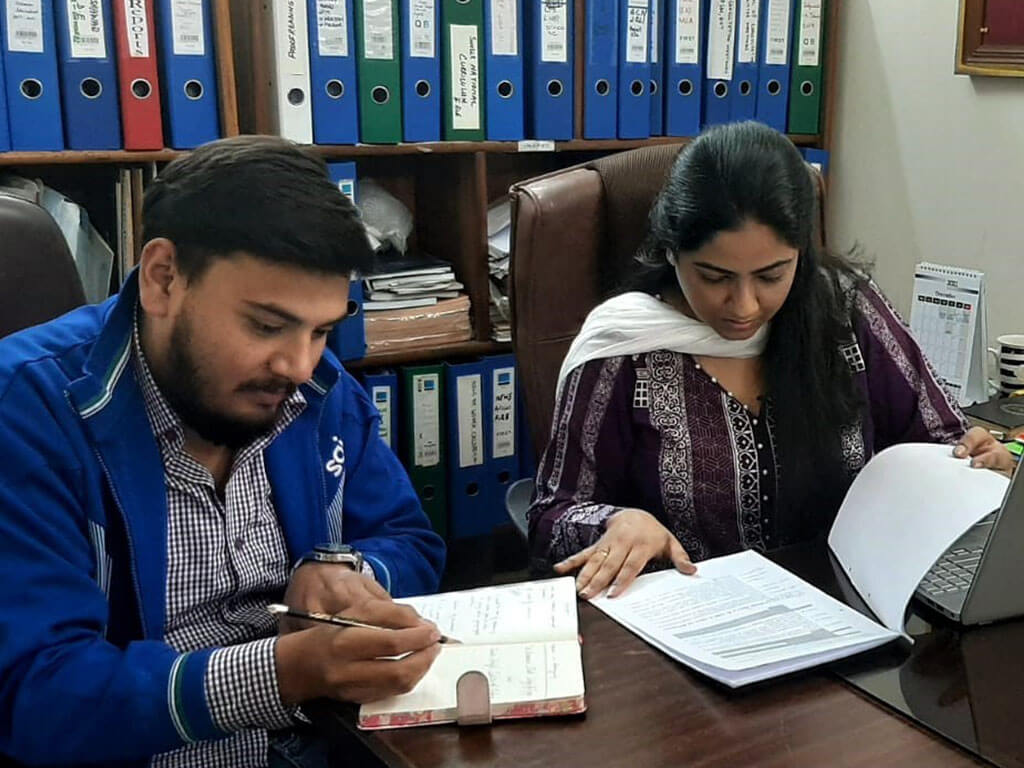 October Due to pandemic restrictions, a face-toface visit by Cardinal Joseph Coutts of Pakistan with EU representatives was cancelled, and was instead transformed into a series of online meetings.
November–December On the occasion of Red Wednesday in Prague, ACN took the opportunity to meet with the Chair of the Senate Foreign Affairs Committee. The current foreign minister and leading members of the Christian Democratic Party also attended the meeting. The aim was to take action on the trade agreement with Pakistan and the appointment of a special ambassador for religious freedom.