Whether media relations, world meetings, conferences or campaigns – every year ACN puts the concerns of the suffering Church in the public eye. Unfortunately, many events in 2021 had to be cancelled due to the pandemic. Nevertheless, we are proud that together with our project partners, we were able to carry out some events, which were organised by ACN headquarters or by some of the 23 national offices and which we would like to present here.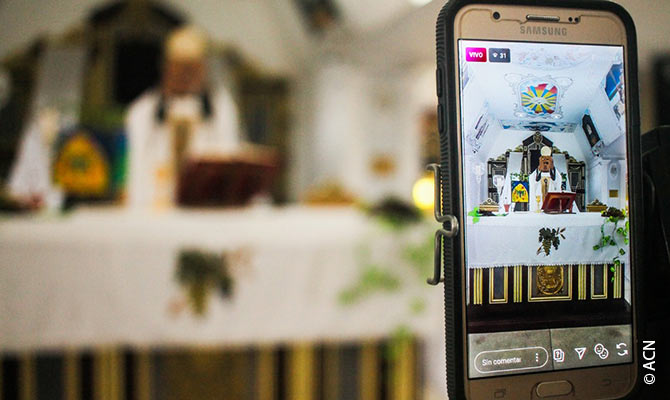 Benefactors' Day
In 2021, ACN celebrated its first "Benefactors' Day". This will take place every year on the Solemnity of the Most Sacred Heart of Jesus. In 2021, this fell on Friday, 11 June. Our many thousands of project partners worldwide – priests, religious sisters and brothers – were invited to pray on this day for the intentions of the benefactors of our 23 national offices and to celebrate Holy Mass. For time, and again, our benefactors also entrust us with their own needs, worries and problems. Many of our project partners have promised us that they will participate in this day of gratitude, thereby offering something back to the people who have helped them.

Hear Her Cries

The thematic focus of Red Week 2021 was the situation of young girls and women from Christian minority communities who are particularly affected by sexual violence and abuse. On this occasion, the ACN national office in the United Kingdom published the report "Hear Her Cries". The 52-page publication presents first-hand cases and accounts from victims, including three women from Egypt, two from Iraq, one from Mozambique, three from Nigeria and three from Pakistan. The report was launched at events in the Scottish Parliament and London's Westminster Cathedral, and at a service presided over by Archbishop Eamon Martin of Armagh in Ireland. ACN UK has also launched a petition calling on the United Nations and UK authorities to take more effective action to tackle the "epidemic" of sexual violence against women and girls who are members of Christian and other religious minorities.
#RedWeek
#RedWeek, also called "Red Wednesday" in some countries, is an initiative that was launched by ACN in 2015 to draw public attention to the plight of persecuted and discriminated Christians. Around 250 million Christians around the world live in an environment in which they are violently persecuted, discriminated against or prevented from freely practising their faith. 
A highlight of #RedWeek 2021 was the red lighting of the Maronite Cathedral of Saint Elijah in Aleppo, Syria, where representatives of various Christian denominations gathered for a service in memory of the suffering Church around the world. The Cathedral of Saint Elijah had been severely damaged during the Syrian war and was rebuilt with the support of ACN.
For the first time, Ukraine and Bosnia and Herzegovina also joined the initiative. The Greek Catholic Cathedral of the Resurrection in Kyiv and the Cathedral in Sarajevo were lit up in red.
In Austria, as well, #RedWednesday found great public and governmental support. This year, in addition to more than 100 churches, monasteries and monuments, at least three large public buildings were illuminated in red, including the Parliament, the Federal Chancellery and the Ministry of the Interior.
In Germany, more than 120 churches took part in the campaign. At various events, Christians from Eritrea, Egypt and Niger gave testimony of persecution and reconciliation, including Father Pierluigi Maccalli, an Italian missionary who was held by jihadists in Mali for more than two years.
In Paris, the Sacré-Coeur de Montmartre Basilica was bathed in red light. A prayer vigil was also held, which was broadcast live on Catholic television.
With 190 buildings lit up in red, the number of institutions participating in the action for religious freedom in the Czech Republic this year was higher than ever before. The programme in Prague included a conference at Charles University and a televised benefit concert at the Academy of Music.
In Portugal, in addition to churches, many landmarks were illuminated, such as the statue of Christ the King looking down on Lisbon from across the Tagus River.
Buildings and churches in many places in Poland were also illuminated in red and various actions were held, including a silent march for persecuted Christians.
In Slovakia, at least 40 buildings were illuminated, including Bratislava Castle and several important cathedrals in the country. Many churches organised prayers for persecuted Christians.
Hungary participated in the initiative at an international level by illumi- nating its foreign embassies in red. Commemorations in the country were held with ecumenical participation. The Reformed Great Church in Debrecen and Esztergom Basilica were ablaze in red light.
In Canada, six dioceses participated in #RedWeek.
In Australia, three cathedrals – in Sydney, Melbourne and Hobart – were illuminated in red. The places of worship also hosted liturgical celebrations with testimonies from persecuted Christians.
In addition to the illuminations of various buildings and commemorations, a Day of Prayer for Persecuted Christians was organised in many countries, with many schools participating.