ACN mourns the death of Benedict XVI
Deeply moved and with great appreciation, ACN bid farewell to Pope Emeritus Benedict XVI (1927–2022), who was closely associated with our aid organisation for many years. During his pontificate, he elevated ACN to the status of Pontifical Foundation and provided us with valuable inspiration for our work. We have lost a passionate preacher of altruism and a great friend and support- er of our foundation.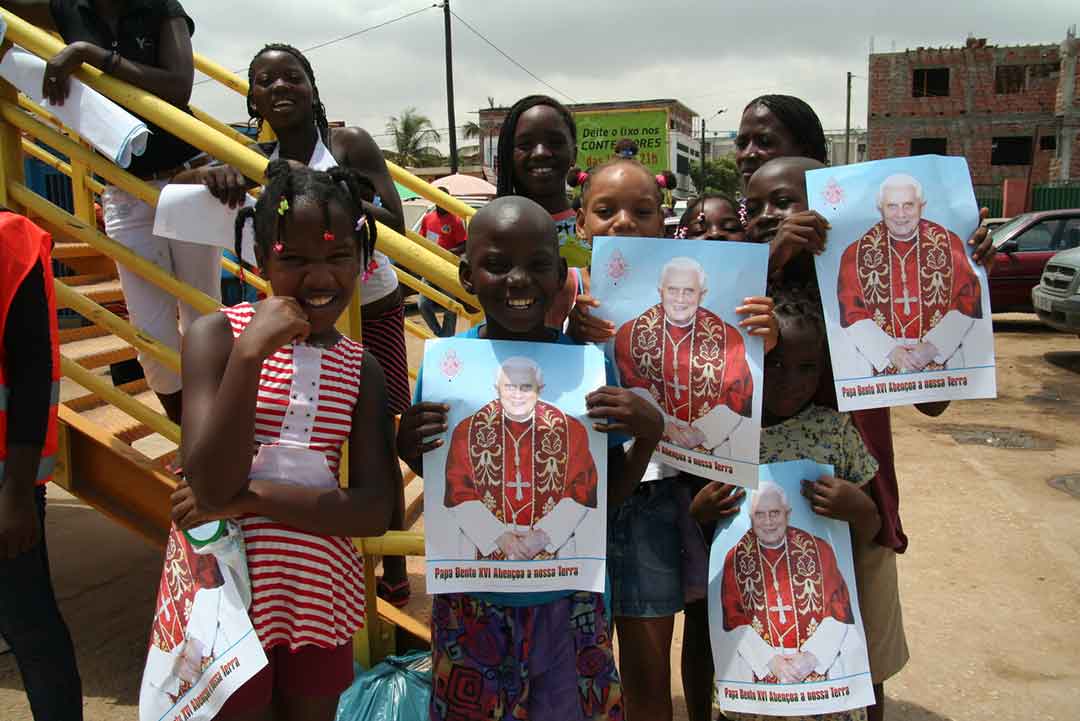 Joseph Ratzinger appreciated and promoted ACN, not only during his term as Pope (2005–2013), but also during his time as Cardinal and Prefect of the Congregation for the Doctrine of the Faith. As early as 2002, he declared; "I support Aid to the Church in Need because I know that real service to the faith is being accomplished there." ACN President Mauro Cardinal Piacenza paid tribute to the deceased as "a great friend and supporter of ACN" and stressed; "The fact that Pope Benedict XVI dedicated his first encyclical 'Deus Caritas Est' to charity is very valuable for ACN." In doing so, he strengthened the mission of the foundation, which "by virtue of its founding charism, is entirely devoted to charity in order to help the suffering Church."
Cardinal Piacenza also recalled that it was this Pope who had elevated ACN to the rank of Pontifical Foundation in 2011 and initiated a comprehensive modernisation process at ACN. With this transformation, our aid organisation took on the form it still has today. In his letter of confirmation, the Pope praised ACN "as a relief agency that has accompanied the Church for 65 years in those places where it lacks financial resources or where violations of religious freedom occur."
Many encounters with Benedict XVI remain unforgotten. During some of his trips abroad, he was able to personally witness our dedication to Christians who are suffering and in distress. For example, during an Apostolic Journey to Brazil in 2007, he visited the drug rehabilitation centre "Fazenda da Esperança" (farm of hope), which is supported by ACN.
A conference in Castel Gandolfo from 13 to 16 September 2007 on the occasion of the 60th anniversary of the founding of ACN will also remain unforgotten.
Pope Benedict XVI received a delegation from ACN in his summer residence and presented us with a statue of the Virgin Mary, which found a worthy place in ACN's international headquarters.
ACN Executive President Thomas Heine-Geldern also recalled how much Pope Benedict XVI cared about young people; "He entrusted this important concern to us through the supervision, dissemination and further development of the youth catechism YOUCAT." In
the preface to YOUCAT, Pope Benedict addressed young people directly; "You must be much more profoundly rooted in the faith than the generation of your parents, to be able to resist forcefully and with determination the challenges and temptations of this time."
In January 2019, Jan Probst, Director of the Swiss national office of ACN, was the last ACN representative to visit the Pope Emeritus at his retirement home in the Vatican. Probst recalls; "It was an impressive encounter. Although physically weak, his mind was clear and his charisma remained unchanged. Benedict said; 'I assure you that you and ACN are included in my prayers.'"
Our foundation remembers the late Pope with gratitude and remains committed to his legacy.