"Did not our hearts burn within us as he talked to us on the road and explained the Scriptures to us?" (Lk 24:32).
The hearts of the 300 Brothers of the Sacred Heart of Jesus still burn within them today. They want to put into practice the words of Jesus – the message of the Gospel. Unusually all the brothers were born in India.
Last year they commemorated the 50th anniversary of the death of Brother Angelo, one of their two founders. To mark the occasion they have established a programme of ongoing renewal, whereby each of the 115 brothers in the province of Angelo (one of their two provinces) will spend two days deepening his knowledge of the spiritual legacy of their founder – humility, passion for the mission, uncompromising support for the poor on the margins of society. The Provincial superior Brother Antony Raj explains that his programme will help the poor with whom their founder Brother Angelo worked with throughout his life.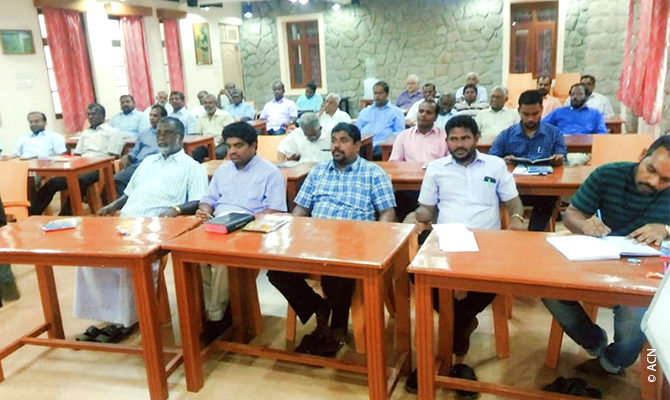 Indeed the charism of the congregation is directed towards them, as they aim to bring "Good News to the poor, in the love of the Sacred Heart of Jesus". In their work evangelism, education and social work go hand in hand. This unconditional love of Christ has led to them setting up special schools for the blind and those with mental or physical handicaps, who are often not cared for in India. The brothers have asked for our financial support for this programme (€3,000). It is not much, but your generosity and solidarity will undoubtedly make their hearts burn with love.