Today, some 16 million people live in the small country on the Pacific coast. 85 % of these are Catholics. On 16 April 2016, Ecuador was hit by one of the most powerful earthquakes of the last hundred years. More than 800 people lost their lives and a further 5,000 were injured. Many churches were destroyed down to their very foundations.
ACN responded with comprehensive emergency aid measures. The epicentre of the quake was the coastal area of Manabí, the poorest region in the country. Ecuador was under shock. The earthquake had completely or partially destroyed countless buildings, including in central districts of the cities Portoviejo and Manta. Also affected were many Catholic churches, which in many cases had been the centre of daily life of the faithful.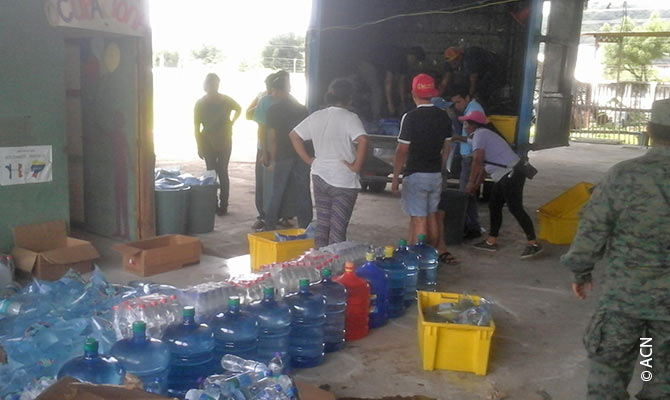 » Without the generosity of our benefactors, emergency aid for Ecuador would have been impossible. «
On behalf of our project partners, we are grateful to our donors, who enable us to take immediate action in the event of a major disaster, such as the one that occurred in Ecuador. In this way, we were able to provide the Church in Ecuador with generous emergency aid and thus allow survivors to stay in the region, despite material hardships and the heavy blow of fate. The funding amount was mainly used for the reconstruction of churches and a house for religious sisters in parishes where the catastrophe hit. In reconstructing the local churches, however, people not only re-erected walls, but also their wounded souls.
A cry for help from the heart
Shortly after the earthquake in Ecuador, we received a letter from Archbishop Lorenzo Voltolini Esti of Portoviejo, excerpts of which we are printing here. His words are simultaneously a testimony of terror, of distress, but also of hope: "Dear brothers from Aid to the Church in Need, almost all the cities and districts of Manabí were destroyed by the terrible earthquake. The situation is very critical, as many families in our province have lost their homes and have to spend the night outdoors. We lack everything: food, water, medicine, hygiene products, soap, tents, etc. Above all, the general health situation is getting worse.
In the various parishes, 80 % of the churches, catechetical education centres, rectories, monasteries and means of transport have been destroyed. We estimate the total loss of our properties in the catastrophe area at 10 million dollars. Yet we are not without hope. We are sure that we can count on the generosity you have demonstrated time and again. Our unlimited thanks, in the name of our church in Portoviejo and of all the people here in the province of Manabí."