In his apostolic letter Redemptoris Custos Pope Saint John Paul II discusses the"important task"of"raising"Jesus, that is,"feeding, clothing and educating him in the Law and in a trade, in keeping with the duties of a father" The Sisters of Saint Joseph in Ukraine do the same, as they see their real mission as raising children and young people in a Christian spirit, and caring for orphans.
Their charism can be summed up in three words: loving, serving, glorifying.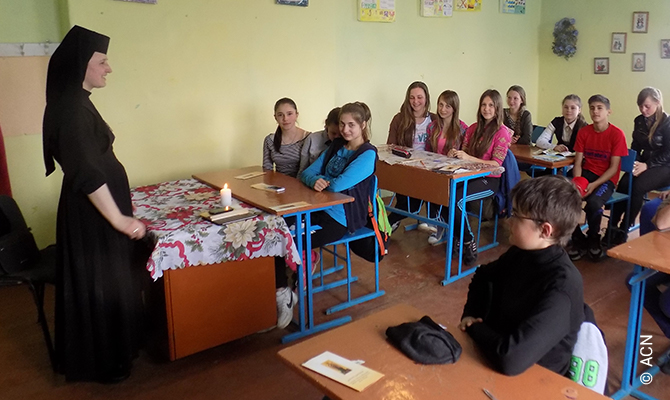 The Sisters of this Greek-Catholic congregation see themselves as "the heart with which Jesus loves, the hands with which Jesus serves, and the lips with which Jesus praises and glorifies the Father in heaven". In this spirit they are running a school, three children's homes and several kindergartens in Ukraine. Among these is the Pysanka (Easter egg) Orphanage and Children's Home in the town of Potelych in west Ukraine.
Three of the 40 Sisters live here, caring for nine children. But the house is old and ramshackle, and the wind whistles through the rotting window frames: snow and rain keep bringing the damp into the house, which can cause illness. These are not their only challenges: the kitchen is too small for twelve people, and the electrical wiring and the ventilation system need urgent repairs. Although not impossible, it is not easy to talk to the children about the love of the Holy Family in such conditions. As a carpenter himself, Saint Joseph would have done something about it long ago.