Christians in Pakistan living between hope and fear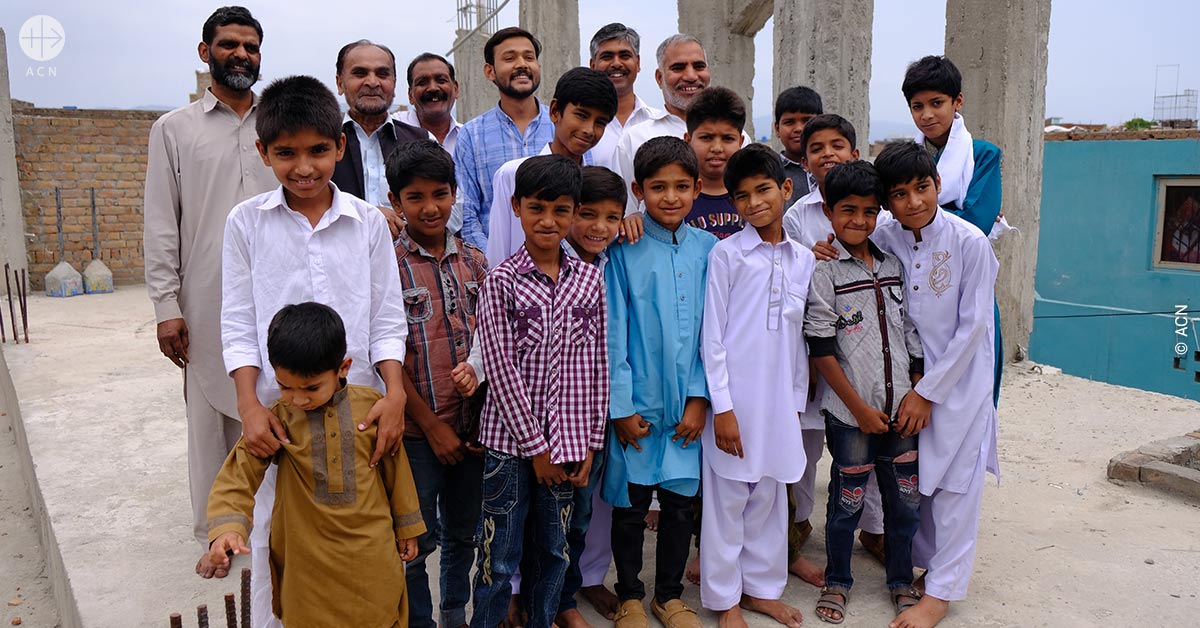 The Catholic Church in Pakistan is important for the country, says Reinhard Backes. He recently visited Pakistan for the fourth time as permanent section leader of the Pontifical Foundation Aid to the Church in Need (ACN), in order to inform himself about the situation of the Christians and the projects that ACN supports. "With more than 200 million inhabitants, Pakistan is in sixth place on the list of the most populous countries," he explained on his return. "Although the overwhelming majority of the population are Muslims and only some two per cent are Christians, they still amount to at least three million people in the country."
According to Reinhard Backes' account, the Church in Pakistan is a young church. "The majority of all worshippers at divine services in Pakistan are children, youths and young adults. But the Catholic Church in the country is a young church, not only in terms of its members, but also when viewed historically." Unfortunately, due to the difficult social and economic situation, young people in the country hardly have any perspective, he says.
Further, not only for Christians and other religious minorities, but also for Muslims, the controversial blasphemy law represents a major problem because it is sometimes misused in order to pursue and oppress dissenters, says Backes. Although, some weeks ago, Asia Bibi – one of the best-known victims of the blasphemy law – was able to escape the death penalty and depart for Canada after nearly nine years of uncertainty, Christians are still in prison on account of this law. More than 224 Christians have suffered from the arbitrariness of this law since its introduction in 1986, he confirms. "Even though there are signs of hope, the Christians in the country are constantly living with a degree of insecurity."
The mood in the country, where Islam is the state religion, is marked by religious intolerance. Over again, there are dead and injured in attacks and assaults, says Backes. He was particularly impressed by his meeting with young people who had experienced a serious attack on two Christian churches in Lahore four years ago. "Sakinder was at prayer in one of the churches and lost an eye in the explosions. Antashia had been singing in the choir at the service. When she went outside, body parts were scattered in the street. Qandeel told me that, despite the severe attacks, the congregation has grown closer together and that many subsequently joined the security service. They all do it on a voluntary basis and are proud to be able to serve the Church."
During his journeys through the country, Reinhard Backes visited numerous projects that ACN has funded in recent years. These include the Joti Pastoral Centre in Mirpur Khas in Hyderabad Diocese, as well as the parish of St. Peter in Jhugian Jhuhid (Lahore Archdiocese) where Catholics live today who were violently driven out of the so-called Joseph Colony in 2013. ACN is helping them to develop the new parish there.
In the words of Reinhard Backes, an indispensable source of hope and confidence in Pakistan's patriarchal society is the involvement of Christian women. "In many places, nuns perform enormously important pastoral and social work." He mentions as examples the Mother Teresa Sisters in Faisalabad, or the Franciscan nuns in Dar-ul-Sukun, a social facility whose name means "House of Peace and Love". There, with great devotion, a nun from Karachi has been caring for neglected children for the last 50 years. "They care for the weakest in society, orphans and persons with physical or mental disabilities. These initiatives, which are being driven forward by Christians in all dioceses, are mainly carried out by women," reports Reinhard Backes, for whom Pakistan is not only a country of fear and violence, but also of hope and charity.
In the last two years alone, the Pontifical Foundation Aid to the Church in Need has funded nearly 100 projects in Pakistan to the tune of more than 1.5 million euros, in particular giving aid for the construction of churches and other ecclesiastical facilities, support for priests, seminarians and nuns, as well as the acquisition of Christian literature.