The city of Jos in Northern Nigeria has suffered severely from many long years of inter-religious violence at the hands of the terrorist group Boko Haram and just now when it seems to be recovering like the phoenix from the ashes, the incessant Fulani herdsmen attacks that have already affected many other areas in the Country, are putting an end to these hopes.
At the end of September, another fresh cycle of violence was triggered off by a night attack of the herdsmen on Rukuba Road in Jos. Two days earlier, both the military and Fulani herdsmen had come to the area, claiming to search for the corpse of a missing Fulani boy. The outbreak left rendering so many people orphans, widows and helpless. One such person is Blessing Kogi, a 23 year old University student who lives in Jos with her family. In an interview with the pontifical foundation Aid to the Church in Need (ACN), she explained how she in one night lost her mother, three siblings and six other family members to a tragic attack by the Fulani men.
"In the evening on the September 27 at around 7:00 pm, we were all in the house having dinner, my grandmother, my mother, three of my siblings, my sister-in-law, nephew and three of my cousins. We were eating when unknown gunmen suddenly burst in and opened fire."
"So, I fell on the floor and played dead, but one of them still came to where I was lying down and shot me twice – in my neck and shoulder."
"The men who were speaking to each other in the Hausa and Fulani languages, continued their killing spree in my neighbourhood. In total, 15 people were killed in my area: 10 in my house, three in another and two elsewhere. Five people sustained injuries, including three children in another house, and the two of us (i.e. Blessing and her cousin)."
Blessing's father survived only because he was at work when the terrible attack occurred.
Just like many other victims of such gratuitous violence, Blessing is broken and traumatised. She says, "I feel I don't have anything left to live for in my life again. My father has not been eating. He cannot even talk. We don't know what to do and how to start either"
"This situation has really affected my faith as a Christian. Immediately after all this happened, I said many things without even knowing why, like I doubted whether Christ was really there, but I later realized that God is alive and He knows everything and so I leave everything in His hands. Now, I find strength in praying and singing praises to God", she said.
She makes a passionate appeal to Christians all over the world, "I really need Christians all over the world to help us with their prayers because we are not finding things easy. Pray for us that we will be stronger in Christ, and He will give us the strength of heart to bear this loss."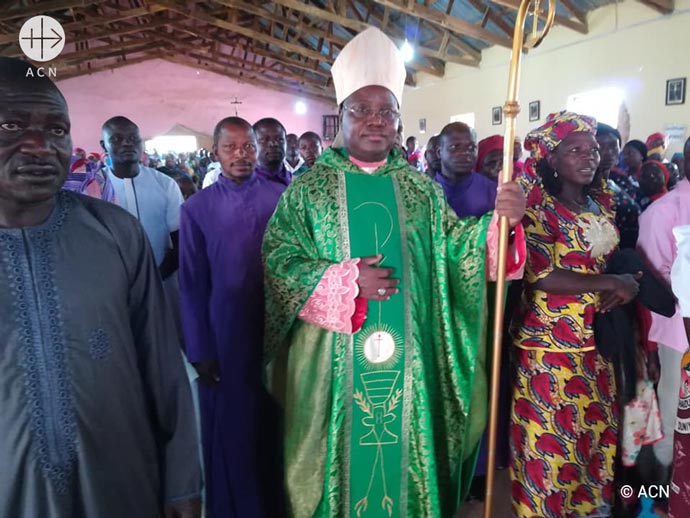 The Fulani herdsmen, also known as the Fulani militia, are a nomadic, pastoralist ethnic group living in the North and central regions of Nigeria, predominately in the Middle Belt. The majority of the Fulani herdsmen are Muslim. They have been clashing with indigenous tribes and locals, mainly Christian farmers, over grazing land for years.
Commenting on the Fulani herdsmen attacks in many parts of the country, especially in his Archdiocese of Jos, Most. Rev Ignatius Kaigama said, "once again, in Jos, innocent lives have been lost, properties destroyed, healing wounds re-opened, psychological trauma caused, inter-ethnic and religious suspicion rekindled".
"The people have been unable to go about their normal farming activities this year because of the fear of constant attacks. They certainly need help with food, medication, clothing and above all, to be able to return to their homes to start rebuilding without any further molestation by the merchants of evil", he said.
The Archbishop, who has become the face of inter-religious dialogue in Nigeria, continued, "we shall not give up in our struggle for peaceful coexistence and civilized conduct. Everyone must do his/her part: Religious leaders must sincerely preach peace. Politicians – avoid operating negatively behind the scenes! Security agents – be fair, unbiased and neutral in your operations! Government leaders- care for citizens facing hostile attacks by terrorists/criminals. Youth – avoid irrationality and stop being used! Terrorists/criminals- stop injuring humanity! Life is sacred. Respect it!"