Heart-breaking news emerged from Ukraine this weekend. Official government figures point to thousands of dead, among them 380 civilians. More than 380 thousand people have sought refuge in neighbouring countries. Fighting has been most intense in the capital Kiev and in Kharkiv, Ukraine's second most populous city.
Magda Kaczmarek, project director for Ukraine with international foundation Aid to the Church in Need (ACN), who is in constant contact with the local Church, describes the most important developments of the past few days. Saturday morning the seminarians of Vorzel, on the outskirts of Kiev, were evacuated and moved to another diocese. "There has been fighting in that part of Kiev, we have been sent images that show damage to the walls of the seminary, caused by artillery and missiles", says Kaczmarek. "The religious communities had to take measures to protect themselves, they have been spending the nights in basements and blacking out their windows so as not to show any signs of activity…".
According to Kaczmarek, the situation in Kharkiv is dramatic, with streets deserted and people hiding in basements and bunkers. The Latin rite bishop of Kharkiv-Zaporiyia has spent the past days in a bunker with several families, as well as with his Orthodox counterpart. Amid the incessant bombings, bishop Pavlo Honcharuk sent a message to Aid to the Church in Need, saying "we are really surprised and very grateful for the mobilisation of so many people, not only all over Ukraine, but also abroad… I would like to especially thank the benefactors who, through ACN, fulfil their calling to show mercy and love. I sincerely thank you all, the whole of the ACN team, all employees, volunteers and benefactors".
Bishop Honcharuk doesn't let the terrible situation he is experiencing get him down. "I wish for this war to end as quickly as possible. But while evil has shown itself to be so strong, this has also exposed a lot of good. In a way, the evil we are experiencing also squeezes the good juice from the grape, and that good juice is our compassion, mutual support, and love. It shows our true faces. God bless you all! Thank you!", he says, adding "my message is short because we are under constant bombardment, and I am a little nervous, but we try to act normally. God bless you!"
In other places the situation gets worse by the hour, such as in Odessa, the country's most important commercial port, strategically located on the Black Sea. Bombardments from the air and from the sea have been kept up over the weekend and there is fear that fighting could worsen. During the first two days of the conflict there were long queues all over the city, and a terrible lack of basic goods such as bread and fuel. The Latin rite bishop of Odessa, Stanislav Shyrokoradiuk, confirms that aid from neighbouring countries has begun arriving, "but we are living in the here and now, and the situation is critical. We will remain here, and we ask for your prayers!"
In other parts of the country, such as in Lviv, on the border with Poland, which is so far free of fighting, the local Church continues to work to support and help the population, which has been swelled by the arrival of thousands of refugees. "Finally, after some very difficult days, I have found time to write a few words. Thanks to the help of the world, Ukraine resists, and we believe it will survive. Here we have been helping the displaced, supplying air-raid bunkers, and welcoming people, especially women and children. Most then head abroad, but here they have the opportunity to rest with us. And we pray together. Thank you for everything", says sister Natalia, a nun with the Greek Catholic order of the Sacred Family, in Lviv.
Speaking to ACN Father Justyn, a Pauline Priest who had to escape to the city of Kamianets-Podilskyi, in Western Ukraine, describes the following situation. "It took me eight hours to travel 150 kilometres. The roads were full of people fleeing West… Traffic jams, queues in shops, chemists and petrol stations along the way. People are scared because they do not know what is going to happen. Many friends have called me and ask why Ukraine has to put up with such evil. Some want to make their confessions, but I can't confess them over the phone. All I can say is 'reconcile with God, repent, sincerely ask for forgiveness and He will hear you'. We need to pray".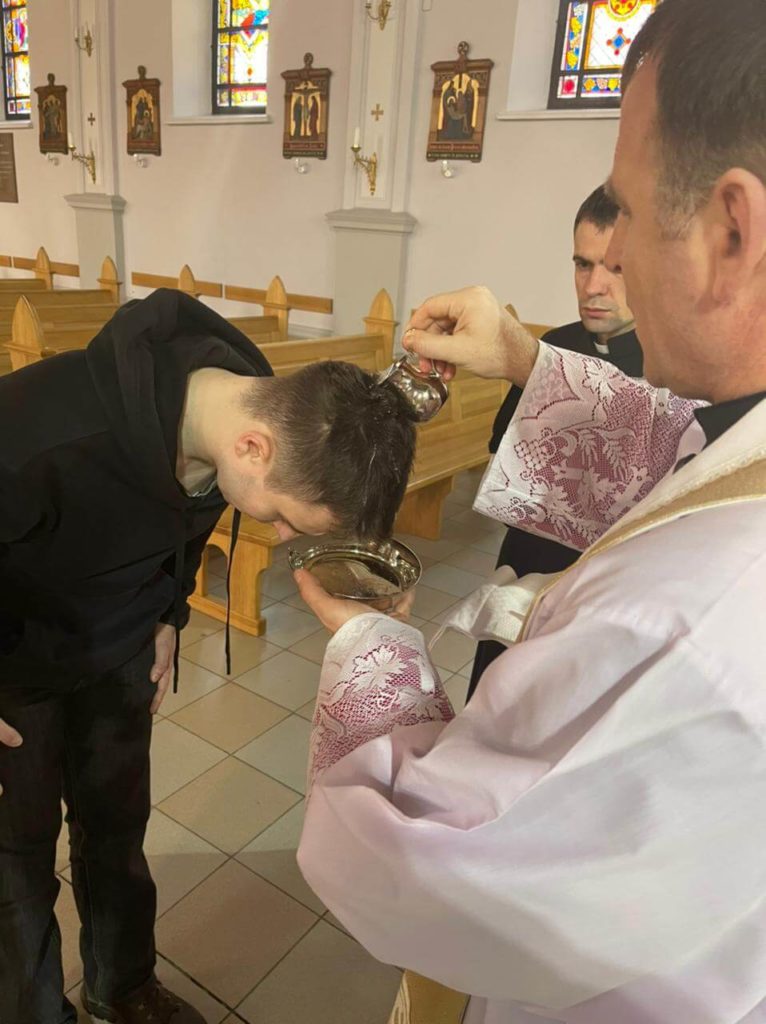 One of the most impressive testimonies ACN has received was a photograph of a baptism in Kharkiv cathedral. The image shows a young man who had been preparing for some time and asked to be received and make his First Communion after being drafted for the war.
Mobilisation of men between the ages of 18 and 60 is one of the most traumatic consequences of this conflict for many families from all over the country. The project director of one of the Catholic eparchies of the Greek Catholic Church, who is in regular contact with ACN to request emergency help, signed off a recent email with a sentence that speaks for itself. "My husband and two sons, both of whom are family men, have been called up. This is what life is like for us at the moment. Thanks for your prayers and support".
Following the breakout of war in Ukraine, ACN approved a package of one million euros in emergency aid. Thomas Heine-Geldern, executive chairman of ACN, has said that this money will be used to help priests and religious who work in parishes, orphanages, and homes for the elderly, as well as those who are aiding refugees all over the country.