Two suspected suicide bombers attacked the Sacred Heart of Jesus Cathedral in Makassar, capital of Indonesia's South Sulawesi province, the morning of March 28 when parishioners had just finished the celebration of Palm Sunday. The attack killed both suspects and left at least 20 people injured.
According to the national police chief, General Listyo Sigit Prabowo, the two suspected suicide bombers were linked to the Jamaah Ansharut Daulah (JAD) network, which is affiliated with a terror group committing a suicide bombing in Jolo, the Philippines, in early 2018. JAD is also affiliated with ISIS and blamed for several attacks in Indonesia, including church bombings.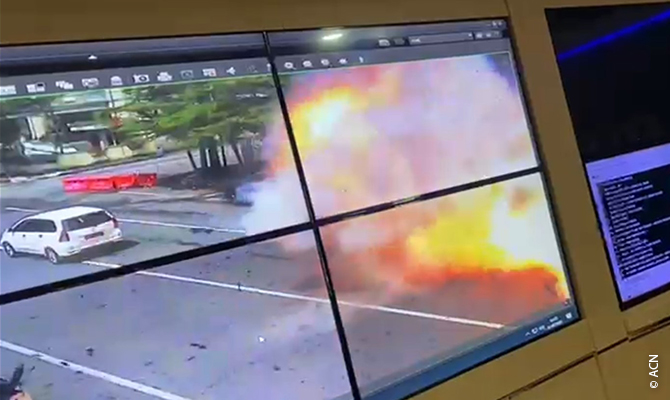 Following the suicide bombing, the Archdiocese of Makassar issued a statement delivered by its judicial vicar, Father Fransiskus Nipa, presented in a two-and-a-half-minute video message uploaded to the YouTube channel of the archdiocese's Commission for Social Communications.
Statement of the Indonesian bishops' conference (KWI)'s Commission for Ecumenical and Interreligious Affairs
A second statement was issued by the Indonesian bishops' conference (KWI)'s Commission for Ecumenical and Interreligious Affairs. A copy of the statement, signed by the commission's chairman, Bishop Yohanes Harun Yuwono of Tanjungkarang in Lampung province, was obtained by Aid to the Church in Need.
Father Nipa said: "We are all concerned about the suicide bombing incident that occurred this morning at 10.26am a.m. local time. The location was at the side gate located close to the security post of the Makassar Cathedral Church. A number of churchgoers were injured and are currently being treated at a hospital. The bishop and priests serving the cathedral parish are all fine. All priests and faithful are called to stay calm and to stay alert. Let security officers handle this case in accordance with existing regulations. Let us bring the incident to our prayers."
The statement signed by Bishop Harun Yuwono read: "We, the Commission for Ecumenical and Interreligious Affairs of the Indonesian bishops' conference, express concern, send prayers, and offer our deepest condolences for the incident that harmed the sense of humanity of all the nation and that left several people injured.
"The suicide bombing is not only the concern of Catholics but also the concern of all the entire nation and the Indonesian state. We strongly condemn the suicide bombing that disgraced human dignity, destroyed the values of humanity, and added to the long list of terrorism incidents in the nation that we love.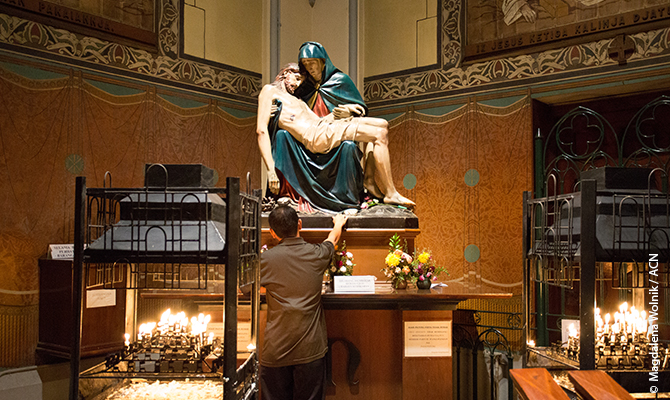 "We call on all Catholics and all the people to stay calm and to not get provoked; we call on all the faithful and all of society to not be afraid. Stay alert instead. None of us should post images or videos of the incident which, in fact, can create fears among the people.
"We truly believe that the government, the Indonesian military, and the national police are able to completely address this case and to create a peaceful and comfortable situation for Indonesian society, particularly the people in Makassar. We hope that the incident will not harm or weaken the relationships which have so far been intensively built, maintained, and developed by religious followers. May the Lord continue to give peace and protection to all of us."