Catherine Ibrahim lives in a camp for displaced persons run by the Catholic Diocese of Maiduguri, Borno State. Here, this Catholic widow describes to Aid to the Church in Need, the murder of her husband and abduction of her children—both at the hands of Boko Haram—and her eventual captivity:
The first time Boko Haram came to our village, we were lucky. Just as we settled in for dinner, we heard their gunshots and ran to the mountains. For the two days we were there, our fear of death kept us alive. We returned to burned houses and churches, which led to a crisis between Christians and Muslims that was only stopped by military intervention. Less than a week later, Boko Haram struck again. They came at my family with a deadly mission. A million thoughts flooded my mind, but none overshadowed the thought of my children—Daniel and Salome—and getting them to safety.
But they beat me to it. When I reached where my children were hiding, I saw the insurgents holding them by their shoulders as they struggled helplessly. They were about five and seven years old then. The insurgents looked triumphant. My knees buckled, and my eyes filled with tears. I was afraid of what might happen to them, especially to my daughter. Then, one of the insurgents savagely dragged me, so I could witness my husband's death. They butchered my husband mercilessly, and they made sure that I saw it all. I can't forget the fear in his eyes. I don't want to say more than this. I hate to remember.
Meanwhile, my children were taken away. My maternal instincts were charged up. They had taken away my husband; I would not let them take the fruits of our love, too. I'd be dead without them. But the journey was too risky to make then, and I ended up in Yola, the state capital, for six months, with haunting visions of my children's struggles. Around May of 2014, I heard that the soldiers had recaptured Gworza. I went to look for my children, but I couldn't get a vehicle to take me to Ngoshe, where I was told they were. So I trekked for a day. On the way, I saw soldiers and Boko Haram clash, which was no worse than what I'd already seen. I simply avoided them and took the 'safe' paths.
I was captured when I reached Ngoshe. The capture pleased me, because in a way, I felt closer to my children. My mother-in-law was the first person I saw. As she excitedly screamed, my children showed up from behind her. I don't think I can describe the joy I felt. Only God knows the depth of my gratitude. This was the first time in my life I consciously recognized God's presence. But now, as we speak, I realize that he has always been there. I was happy that my mother-in-law didn't ask me about her son. I don't know how I would have told her about what happened. My children, while in captivity, were Islamized and renamed. Daniel became Musa; Salome became Yagana.
After three days of planning, my attempt to escape failed. My children were taken away, and I was brought to a detention camp. For two weeks, my hands were bound behind my neck, and my feet were tied together. I was tortured with all sorts of objects, and they didn't stop until they drew blood. They beat me very badly, but I kept my faith. When my detention mate died, I prayed fearfully in my language. It turned out that a guard spoke that same language; he was from my tribe; eventually, at his urging, I was freed after three months from the detention camp and let back into the larger camp.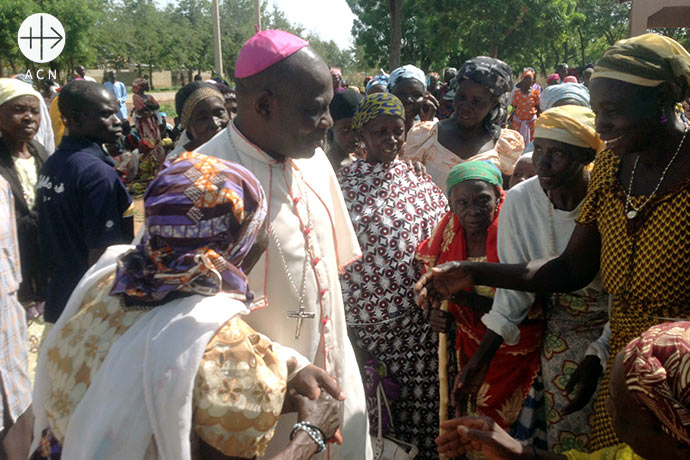 My mother-in-law nursed me back to health. It's been four years since my release, and I still don't have the full use of my hands. Since I came here, the Church has helped me in my treatment. I was brought to St. Patrick's Cathedral from Maiduguri Specialist Hospital, and a cathedral administrator took me to the private hospital, where I underwent physiotherapy for six months. After three years, on March 2, 2017, I was reunited with my children in Maiduguri. After a clash with Boko Haram in Ngoshe, the soldiers had rescued them. Now that I am back with my children and mother-in-law, my joy knows no bounds. But my husband's death—having to watch it—will haunt me forever.
In 2017, Aid to the Church in Need visited the Diocese of Maiduguri and met Catherine and many other widows and orphans victims of the atrocities of Boko Haram. The foundation supported the pastoral work of the Church in Nigeria with projects totaling more than $1.6M in 2017. These included support for the care widows and orphans, victims of Boko Haram, as well the reconstruction of the cathedral and the minor seminary in the Diocese of Maiduguri, destroyed by the terrorists.