The Sisters of the Most Blessed Sacrament are overjoyed. For, thanks to the support of our generous benefactors, we have been able to provide the money to purchase a new minibus for their work. You have given almost 28,000 Euros for this purpose.
Sister Maguy writes: "On behalf of all the sisters of our congregation, I would like to thank ACN for this help. And above all I thank you on behalf of the people whom we serve. We visit the parishes, giving religious instruction, retreats, and other forms of pastoral work. We care for the elderly, we counsel and help those in difficulties. Your help represents a tremendous support for us in our work. Many, many thanks!"
Their congregation was established in 1966, originally to help young women to acquire a practical training in dressmaking and tailoring, and also to provide medical help for the needy. But over the course of time other forms of service were added. The eight convents of the Blessed Sacrament Sisters are situated in rural areas of Lebanon, where the poverty is particularly severe. The sisters need this vehicle in order to be able to reach the most remote and poorest villages, bringing consolation and help with them.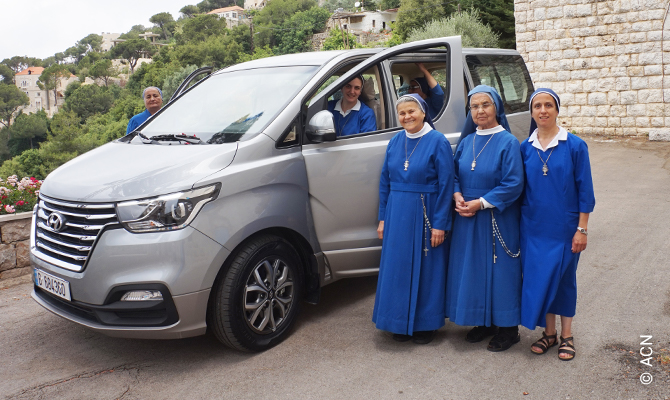 Help is needed now more than ever, since in the last few years the social and economic situation in Lebanon has worsened dramatically. The war in neighbouring Syria has prompted some 1.5 million refugees to flood into the country. Unemployment is high, exacerbated still more by the severe economic and political crisis that began in 2019. In less than a year the Lebanese currency lost more than 80% of its value, and prices for basic necessities have increased in some cases as much as fourfold. Many families are struggling to survive, and there is a pervasive sense of despair. Thanks to your help, the Blessed Sacrament Sisters can at least bring some comfort and consolation to places where until now the people have felt entirely abandoned.