The events are accompanied by testimonies and prayers for persecuted Christians
The 2019 Red Week wants to raise awareness of the persecution of Christians worldwide. Research has shown that Christians are the world's most widely targeted faith group. Cathedrals, churches and public buildings in 15 countries will light up in red to raise a strong voice in support of those suffering discrimination who are unable to speak freely, and who look to their brothers and sisters in Christ to speak up on their behalf.
The Red Week is an initiative of the international pontifical foundation Aid to the Church in Need (ACN), a Catholic charity dedicated to the support of suffering and persecuted Christians. Starting on the 20th of November, events will take place across four continents, beginning in Australia with the lighting of seven Cathedrals including those in Sydney and Melbourne. The highlight will be on the 27th of November when thousands of buildings in London, Amsterdam, Lisbon, Prague and Washington D.C. will join Red Wednesday.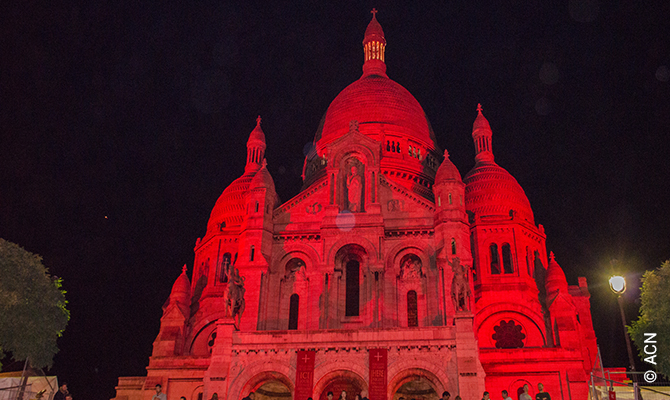 Across the UK, 120 buildings are going red, including 13 cathedrals. In the Philippines more than 2,050 parish churches in 68 dioceses will participate. This year, for the first time, the initiative will come as well to Budapest, where the Chain Bridge and the Saint Gellért Statue—Saint Gellert was the first martyr in Hungary—will be lit scarlet.
In recent years, the Colosseum in Rome; the Westminster Abbey in London; Christ the Redeemer in Rio Janeiro; the Sagrada Familia in Barcelona and many more landmarks joined the initiative.
Approximately 300,000,000 Christians around the world live in an environment where they are violently persecuted, discriminated, and prevented from freely practicing their faith.
Published in October 2019 edition of ACN's biennial report on Christian persecution, "Persecuted and Forgotten?", assesses the nature of threats to Christians and the underlying causes. Given the number of people affected, the gravity of the acts committed, and their impact, not only are Christians more persecuted than any other group, but ever-increasing numbers of faithful are experiencing the worst forms of persecution. The report can be viewed at https://persecutedchristians.acninternational.org/