Con il 10 per cento dei circa 3 milioni di abitanti, la Chiesa cattolica in Albania è una piccola minoranza tra la popolazione a maggioranza musulmana. La maggior parte dei sacerdoti e dei religiosi proviene dall'estero e le vocazioni locali sono purtroppo ancora del tutto insufficienti. 
La Chiesa in Albania è giovane e dinamica, ma ha bisogno dell'aiuto dall'estero.
Ai tempi del comunismo tutte le religioni sono state crudelmente perseguitate in Albania, ma dopo la svolta politica la libertà di religione ha di nuovo prevalso. Tuttavia, la Chiesa deve fare ancora molto per avvicinare le nuove generazioni alla fede. ACN è al suo fianco.
Con un'età media di 34,3 anni, l'Albania conta la popolazione più giovane d'Europa. Circa un terzo ha meno di 25 anni. Allo stesso tempo, l'Albania è uno dei paesi più poveri d'Europa. A causa della povertà diffusa, alla Chiesa cattolica mancano i mezzi per formare i sacerdoti locali che servirebbero e per offrire ai fedeli un'assistenza pastorale adeguata. Senza aiuto dall'estero, l'esistenza della Chiesa locale è minacciata.
ACN è a conoscenza della situazione d'emergenza in cui versa l'Albania. Grazie ai nostri aiuti finanziari, nel 2020 la Chiesa ha potuto garantire la formazione continua dei futuri sacerdoti locali, acquistare nuovi veicoli per l'assistenza pastorale e svolgere lavori urgenti di ristrutturazione degli edifici ecclesiastici. Inoltre, abbiamo sostenuto la Chiesa locale con aiuti straordinari per affrontare la pandemia.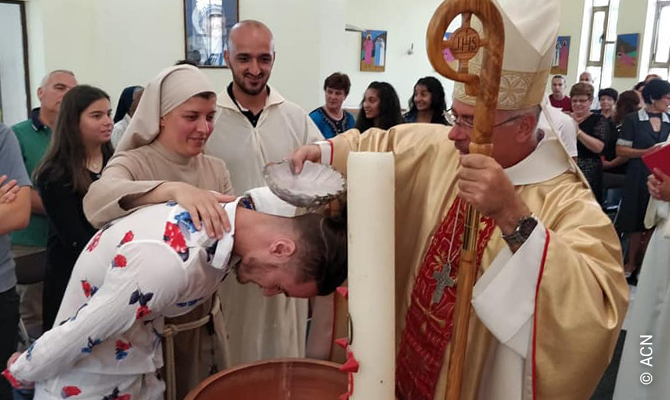 ACN sostiene una nuova
via all'evangelizzazione
"Online with Saints" è il titolo del libro che introduce i lettori adolescenti a più di 100 santi di epoche e paesi del tutto diversi, che forniscono risposte a domande molto attuali. L'idea ispiratrice: nel cammino verso Dio, i giovani dovrebbero conoscere i Santi come se fossero degli amici e dei compagni personali. 
Anche mons. Angelo Massafra, arcivescovo di Skoder Pult, nel nord dell'Albania, è entusiasta di questa nuova via all'evangelizzazione. Ci scrive: "Il materiale moderno è estremamente necessario, e "Online with Saints" offre un approccio innovativo per apprendere di più su Dio e sulla fede". ACN ha finanziato la pubblicazione del libro in albanese.